Pre and Post natal training is my speciality.

Having my first child five years ago I experienced
first-hand the fitness issues of pregnancy and the
challenges around exercising with a newborn.
Hence, I have developed a personal training service specifically
for pre and post natal women in the Bayside area.
I want new mums to feel the best they can in a supportive environment and understand how exercise can help with issues like:
Sleep deprivation

Lower Back pain

Time Disappearing

Pelvic Instability




Breastfeeding issues

Where has my old body gone
Training is available in the studio
(with babies welcome).

Generally pre/ post natal training sessions focus on reshaping, toning and strengthening muscles, core & pelvic floor strengthening (with a Pilates base), stretching and cardio. But most importantly sessions are about feeling motivated, having fun and achieving results.
"I was worried now that I had the baby how I was going to be able to train and get my body back into shape without childcare. Sarah's personal training has allowed me to do this as bubs can come along and watch whilst Mum works out. I love the sessions, hard but fun and they definitely revitalise after the many sleepless nights!"
Bec Yates
Pre/Post Natal Training one-on-one in the studio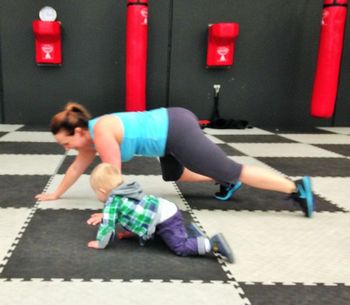 One-on-one training delivers and achieves the fastest results. You have my
undivided
attention and each session is all about you, working on target areas and your fitness
goals.
Correct technique is used and pre/post natal guidelines followed.
Detailed assessments and measurements are included.
Babies are welcome
Mum's & Bubs small group training in the studio
Mums and Bubs small group sessions are a fantastic way to lose weight, boost energy, strengthen, tone and enjoy the company of other local mums. Expand your social circle, share information and advice, and burn calories at the same time. My maximum group size is 4-6 people. This is a great activity for Mother's groups.
Babies are welcome.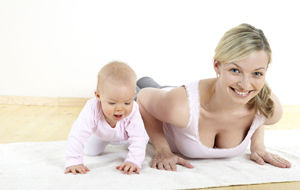 In HOME - Pre/Post Natal Training
Home one-on-one training sessions are a great way to work around the ever changing routine of a baby. I will come to you and bring
everything for a training session.
Sessions are based on your personal health & fitness goals, taking into account your energy levels on the day. Often home visit sessions are Pilates based, but you have the choice and option to make it fit your needs and goals, some of my clients prefer home boxing sessions, or weights circuits. It's about you feeling strong and energetic so you can enjoy your baby. Home visits include assessments and measurements.
"After two kids and one too many chocolate bars I finally decided to call in a PT.
Looking for someone who would come the house was hard!
I have two young kids
& I needed someone who could understand the demands of my lifestyle. I was lucky
enough
to find Sarah who from the first consultation was nothing but 100% supportive. I know Sarah believes in me even
when I
loose belief in myself. I really look forward to seeing her each week"
Mel W, 25
Pricing
Session Type

Duration`

Price

1 : 1 Individual

45 min

30 min

$70

$50

Small Groups in the studio

Price on enquiry *Currently unavaliable
* Subject to availability *
Caution:
Medical clearance to exercise whilst pregnant is required.
Post Birth
You need to wait until your six week check & have medical clearance, and if you had a caesarean you need to wait 12 weeks or have medical clearance to exercise sooner.
Thorough assessments are conducted before any activity begins